Additions and Renovations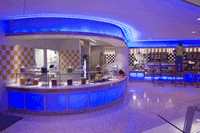 Kay Kafe' Addition/Renovation Project
St. Jude Hospital
Memphis, TN
For years we've used a simple approach to serve our clients: we put the best tools in the hands of the best people.
When it comes to installing an electric system or upgrading the existing electric system, it is important to select a contractor that will offer minimum disturbance to your business and complete the project within the given time frame. Ekmark Electric Company's Specialized Services Division takes the knowledge and experience of our larger electrical construction projects and makes them available to smaller commercial, industrial and customers.
Whether it is wiring a new electrical outlet, upgrading the lighting in a warehouse, helping plan an electrical project or diagnosing problems within existing electrical systems, Ekmark Electric Company is constantly looking for better ways to serve its customers.
We would like the opportunity to discuss how Ekmark Electric can meet the needs of your next construction project. Contact us or submit a bid request.
Selected Work

St. Jude's Kay Kafe with lighting by Ekmark.
Testimonial
The installation work that Ekmark Electric did was above reproach... it was some of the finest work I've seen. I must say it went much, much better than the previous contractor.
John Knight
Honeywell Project Manager
KGF Lan Systems